Tag:
children's entertainment
Say Kids! What Time is It? Notes From the Peanut Gallery By Stephen Davis
Buy on Amazon (Affiliate Link)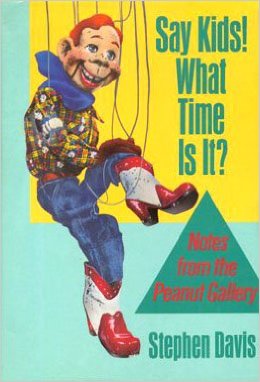 100 Word Book Review – This is a decent book that takes a look behind the scenes of The Howdy Doody Show. While it does a great job of giving the reader a glimpse behind the scenes, it did rub me the wrong way in two ways.  One, the constant repeating of how talentless Bob Keeshan was.  The author can barely go two pages without mentioning it.  He was Captain Kangaroo!  He had some talent!  Also, the author cannot stop repeating how in love he was with Princess Summerfall Winterspring.  We get it, you liked her, no need repeating it.  Otherwise, it's a great book.
Quotes:
Years later he (Bob smith) told a reporter, "I could have jumped and kissed the moon!" – Buffalo Bob on getting his first job in entertainment.
It was a rousing good adventure! Let's not worry about whether it was a dream or not. – Phineas T. Bluster
Goodbye, kids. – Clarabell the Clown