Tag:
exercise
As I said in my post yesterday, it always starts this way, I drop a few pounds the first few days then nothing.  Today was nothing.  Still the same weight as yesterday.    Totally not discouraged though, that's how it goes.
I knew going into today it was going to be a little different that the past few.  I had a rehearsal with the improv group I'm in, Improvatorium, from 10-1.  A kid's show at Flappers at 4:30 and then I had to high tail it over to Hollywood before 5:45 to run sound for a one woman show.  I was going to be eating a little earlier than normal (before my class) so I decided to eat a little but more, choosing a footlong turkey sub at Subway as opposed to the regular 6 inch.  The day before I kinda laid out the day in terms of eating which several people say is a good thing when trying to lose weight.  Plan out what you're going to eat as opposed to just going on whims (mmmm…burrito….).
I also like to plan out because if it's something I really love I can look forward to it and say "No I'm not going to eat that now, I'm having (good food I'm looking forward to) later.  So today I planned Subway in the morning early, grab a footlong.  Some sort of fruit back at my office after my rehearsal.  Then a salad with chicken up at Flappers before the show.
That plan did not workout however.  The time between when I got to Flappers and when the show was going to start was too short.  So no food.  Immediately after I got off stage at Flappers I had to book it to Hollywood to run sound, so my only option was to eat after the show.
By the time I got back to my palce it was 9PM so I was hungry.  Was VERY tempted to stop along the way and get something bad.  In-N-Out….Panda Express (guilty pleasure).  Also thought about getting a Subway sandwich.  But, I decided to just get home because I had healthier stuff there and I wanted to go on a run because I hadn't during the day.
Got home, had a sensible dinner, as you'll see below, and then went for a great run.  It was a well lit path, no worries.
I do feel like I want somewhat of a 'treat' tomorrow.  Not sure what but something.  Pretzel M&Ms are low points, 6 for a bag, so maybe those.  We'll see.
Onto the food!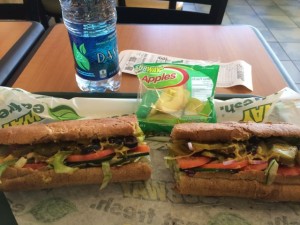 Footlong Turkey sub on whole wheat, apple slices, bottle of water – 15 WW Points
Didn't get Chips because I was getting the footlong.  Not much else to say.  Standard sandwich.  Except she put banana peppers on if before I could tell her not too. I don't mind banana peppers, just not my favorite.  Jalepeños though….mmmm.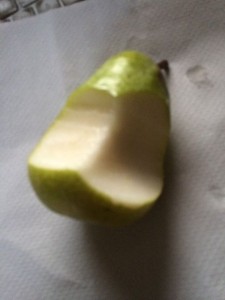 Pear – 0 WW Points
This pear was so much better than yesterdays.  I think they just needed a day to ripen.  You know, fruit does that.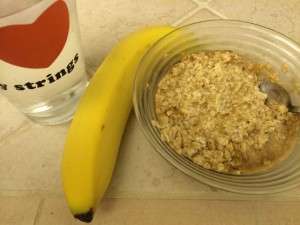 Quaker Low Sugar Maple & Brown Sugar Oatmeal (2 Packets) a banana and water. – 6 WW Points
That was my dinner.  I could have eaten a ton more but I was focused on my, newer plan, of eating something light and going for a run.  It worked and I feel good.
That'll wrap today up with a bow.  Thanks for reading. Goodnight.