Tag:
jim henson
Friday morning, April 19, began relatively early as we were headed to the airport to head back to Los Angeles. It's always a little bittersweet on the mornings after a tour because after so many days of traveling together, we start splitting up one by one. Brian got himself a rental car to head back to Orlando and go to Animal Kingdom (yeah, he's a jerk like that), Tyler was staying in Florida to visit family, Greg, our production head, was headed back to New York, Sean Johnson was headed to San Francisco to meet his family and our awesome tour manager Julianna was staying an extra day to make sure the puppets got to where they needed to go. So, early in the morning we had to began to say goodbye. Luckily Patrick, Cameron (our lighting guy), Peggy and Dan were all still traveling together so there was still some remnants of the tour.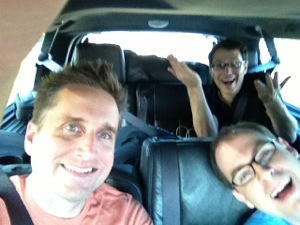 I will tell you this, this tour was filled with nothing but laughs. Nothing. There were no arguments, no fights, just laughs. Even during the tough times (the cataract bus, the Austin hotel, tech issues) we were all still always laughing. The perfect example was the emergence of Ed Wynn impersonations during the seven and a half hour bus ride to Hamilton, Montana. There were so many memorable funny moments on the tour. Even on the way home yesterday we had a layover in the Atlanta airport and just sitting waiting for the next plane there were several, laugh out loud, wipe away a tear moments.
Take this for example, on the plane flight back to Los Angeles, Cameron and Patrick sat next to each other and I sat across the aisle from them. Patrick gets a sandwich on the plane and, for no reason, using the paper from the sandwich and the labels that held it together created a partition to keep Cameron off his side of the row. Hilarious. Well, it was to us. Perhaps we're just punch drunk from all the travel.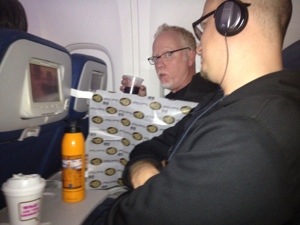 Once we landed in Los Angeles, it was a short shuttle ride to the Henson Company Lot. Even THAT ride was filled with laugher. It's just a great group of people.Soon after we were all off on our separate ways.
This was a really fun tour. I had a simply amazing time. I got to swap into HDPS and I'Ve Grown Accustomed To Your Face, two things I love and always want to do more of. I got to lead the Alien Barbershop all eleven shows. I had so many funny scenes with ALL the members of the cast. Allan and I did a great slide show. Ted and I did a great Narrated Story. Peggy and I had a memorable New Choice scene. Sean and I graduated to recreations together with Face. Tyler and I did uproarious Bunny Talent show bits together and I loved playing his body when he did HDPS. Brian and I did a hilarious spot scene where the suggestion was 'Deliverance.' As in the film. I love working with every single one of these performers and would jump at the chance to do it again.
Let's not forget Patrick, our fearless leader and my improv mentor. He's incredibly important to me and, still to this day, I learn new things from him. I will forever be grateful to his time and teachings. He's the best.
Julianna, our tireless tour manager. Den mother. She's incredible. She gets us to where we need to be and tackles any problem head on. So grateful for all her work. The success of this tour is as much a result of her work as it is our. Perhaps even more.
Greg, our Production Manager, and Cameron our lighting guy. These guys are the best. They've seen every show and if they come up to you and say something worked, you can take it to the bank that it did. We'd be nowhere without them. And to 'Bobo,' our newbie tech guy. He fit right in with our insanity and we were so glad to have him along.
I love the facts for this tour that Cameron put together…
We travelled through all four time zones.
We played in seven different states.
We played in places where it was snowing, raining and pushing 90 degrees.
We logged over 8,200 miles.
We did eleven shows.
All of this in 16 days.
It could have gone ten more.
Thanks for following a long on this journey. It was fun to bring it all to you. Here's hoping there's more in the future and I can continue. For now I'll just be dropping back to my regular Wednesday Words posts for the time being. Thanks again!
The day started super early in being woken up as the bus pulled into our hotel at Fort Pierce. I was so out of it, I just walked off the bus, grabbed my suitcase, walked past the front desk where all our keys were laid out and walked to my room to go back to sleep.
I woke up,unfortunately around 9:30AM. I couldn't quite get back to sleep, so I got up and worked out. Thirty minutes on the treadmill. I then went up and wrote yesterday's blog post.
That, and just moving rather slow, took me right up until it was time to get over to the theatre in Fort Pierce. Tyler and I took the runners car over to the theatre which was the Sunrise Theatre in Fort Pierce. COol because just days before "Weird Al" had been through. Not sure how he and his crew fit on that stage. It's tiny. We barely fit.
Didn't get to walk around Fort Pierce much. I wanted to, but those who'd already come over earlier, as there was not much to do around the hotel, had said the town was pretty much closed up. Not much was open. So I just hung out at the theatre until show time.

The show last night was an odd beast. The audience enjoyed it tremendously. We got a standing ovation, again. So, obviously, the crowd loved it. But right from the top there were audio problems. Problems that weren't around at all in soundcheck. I just could not hear anyone during any scene. All I could hear was the house speakers echoing back to the stage. None of the rest of the cast was coming through the monitors clearly. This threw me big time. Improvisation is 90% listening to what your scene partners are saying. It just doesn't work if you're fighting to hear them. As a result I was off the whole first act.
At intermission I found out I was not alone, everybody was having the same problem. Our tech crew, which is awesome, went to work on it, but we're using the house sound so sound is always a crapshoot. They tweaked it a bit, but the problems persisted into the second act.
As I said though, the show was good. I just felt off, not connected, disjointed and the harder I worked to reconnect, the worse it seemed I spun out. There were a few spot I thought I did a passable job. I had to improvise a song during the HDPS segment which I did okay at. Peggy and I did a fun scene using the suggestion 'Graduating from the school of Tourettes' which ended in a song. I've Grown Accustomed To Your Face went well. Sean and I weren't spot on, but the scene got laughs from the audience. I'm growing more and more comfortable with it each time.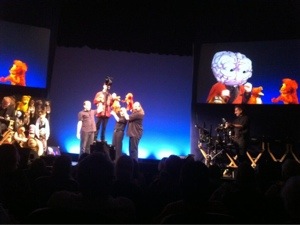 Alien Barbershop was okay. Not my best. Subject was Stripping and I, stupidly built my rhyme around 'Strippers' which was not the suggestion. I realized my error right as we were about to sing and a last minute line change threw everything out of whack.
I like stripping. (Original line was strippers)
Especially south of the border.
Because the strippers there,
Always accept quarters.
Blech. Horrible.
After the show we all loaded back up onto the bus for our final drive to St. Petersburg for our last stop on this tour. Here's hoping we go out with a kick ass final show.
The morning of the 9th was spent lazily getting ready for the show that night at Bass Hall in Fort Worth, and making sure I was all packed up to leave. We needed to check out of the hotel as we were hitting the road to Austin right after the show.
Once I was all packed up, I took another stroll in downtown Fort Worth. They have a really nice downtown area, though most of it is under construction.
After a late lunch it was time to head to the venue. Bass Hall is an amazing venue. Like a giant opera house on the inside. Almost a little intimidating to play there it's so big and ornate on the inside.

The cast is usually called to the venue at about 3 or 4PM. We get into mics and go through sound and tech rehearsal. This is to check the sound, but to also check some of the tech elements of the show, like the Henson Digital Puppetry System and position things like the rail that we use for Java and I've Grown Accustomed To Your Face.
I want to take a brief moment to give a shout out to our crew Greg, Cameron, Zach and Sean. These guys have to be at the venue early in the morning to direct the local crew in getting things set up and ready to go. A few days ago when we had that seven and a half long hour bus ride? They had to get to the venue right after we arrived. No sleep. They do a heck of a job making us look good.
After rehearsal we usually have dinner at the venue. Today the dinner was barbecue chicken and it was amazing. We got to dine in a really fancy green room too. Just off of the green room was a fancy little reception room where Patrick realized it's be fun to take these goofy 'serious' photos. We spent pretty much up to show time posing on this couch and coming up with insane ways to pose with the puppets.
Then it was time to Puppet Up! The crowd at Bass Hall was fantastic. Their suggestions were awesome and they were with us the whole time.
I did 'Slide Show' with Allan and our suggestion was Oprah & Gayle's Road Trip. We had some fun with that and when a slide of a cow came up I remembered Oprah and her 'beef' with the cattle ranchers. I brought that up and it got a big laugh.
Alien Barbershop was fun, though having a day off, I should have refreshed my memory on the right key of the song a bit. I was off. But the rhyme got a big laugh. I'll let you guess the topic but here was my song…
I do it daily,
To keep me calm.
Just don't look,
At my hairy palm.
That went over pretty good.
We got a great suggestion for the title of our Film Noir structure: Double Indignity. Hilarious!
Right after the show we hit the road to Austin. The bus drive was, refreshingly, normal. No problems at all. We even got a stop at a Whataburger. It was so nice to have some uneventful travel.
But then we got to the hotel….
And since it happened after midnight, you'll have to wait until tomorrow.