Tag:
unfriend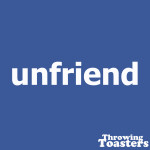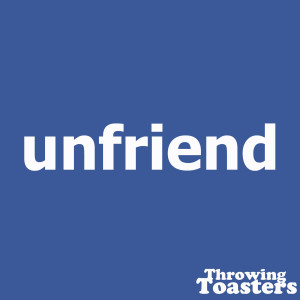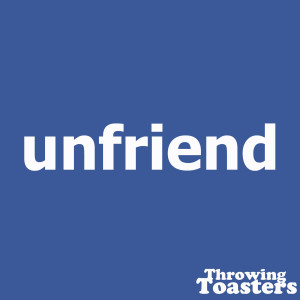 It's out! Another, brand new, Throwing Toasters song! It's called UNFRIEND and it is available on
iTunes
,
Bandcamp
,
CDBaby
,
Amazon.com
and just about everywhere else that singles are available.
This song was written a year or so ago, right around the time I was just getting completely frustrated with Facebook and being on it. I absolutely love how this song turned out and the magic
Steve Goodie
did with the instrumentation and the background vocals.  I think it is some of the most fun rock 'n' roll from Throwing Toasters in a long time.
When I wrote this song, I was pretty done with facebook. If you know me, or have looked for me on the social media site you know I don't have an account. After several years, I began to realize that the social media service was just not my thing.  The examples given in this song are pretty close to reasons why I left.
While recording this, Steve made the comment that he thought it was funny that at the end I say it's my mom, making the whole song about her.  That made the baby in the second verse me. Or a sibling. I thought this was pretty funny. I'd never thought of it that way. In my mind the song is about three separate people.
For the record, I was still friends with my mom when I left Facebook. The final verse is not about her. Honest.
And while you're at it, be sure to Like me on….oh…never mind.
Tags :
comedy, comedy music, comedy rick, Dr. Demento, Facebook, funny, novelty song, rock, social media, throwing toasters, unfriend