Puppet Up Toronto Tour Diary – Day 4 – What A Show!
Today began slower as I was getting a bit of a sore throat and I wanted to rest it a bit. So I slept in quite late and then just sort of lounged around my room. I made myself breakfast, watched the rest of the Apple Keynote I'd missed yesterday, surfed the net….you know, life of a puppeteer on the road.
Also spent some time searching for reviews of last night's show. Found three really positive ones including a 3 1/2 out of 4 star review from the Globe & Mail. The response on Twitter & Instagram seems very positive as well. Toronto loves us!
I got out and went for a walk later in the afternoon. Lots of great shops, restaurants and more in this area of Toronto. I want to explore the city a bit more in the days ahead. It's really got a great vibe. It's sort of very bustley like New York but has buildings that give it more of a Boston feel.
We were called to the theatre to fine tune some bits and everyone seemed sort of loose and relaxed from their first morning off with no early call. There was definitely a relaxed atmosphere backstage before the show.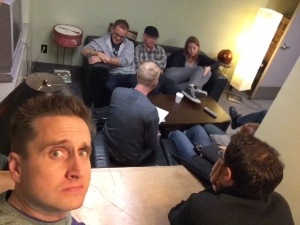 And that show….Now THAT was a show! From top to bottom it was a great show and the audience gave us amazing suggestions all night long. Select highlights were: An eyewitness scene where two concert goers watched Justin Beiber commit regicide, an amazing date scene, a hilarious audience participation bit about a bingo caller and a fantastic puppet variety show with a creepy bunny who just watched each act. The cast was on fire tonight and each scene was just as good as the next. We seem to be really great at playing off each other. A good combination.
The suggestion for Alien barbershop was: Astrophysics. As we got closer to the song I was putting together a really complicated rhyme about physics in space and the movie Gravity and I suddenly said to myself, "I have no idea what Astrophysics is." ANd I just decided to go with that. So my rhyme was…
Oh astrophysics
Don't mean shit to me
And that's because
I have a theatre degree.
It killed.
Java tonight was really fun as well. It's just such fun to puppeteer on a classic Henson piece and walk in some very big footprints.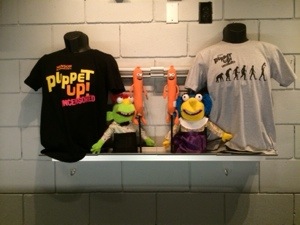 After the show some of us go to the lobby to greet the audience with puppets. It's always a fun time. Some new merch on this tour. Love the 'evolution' shirt. Also, the theatre knows a cookie maker who made cookies of the Hot Dog & Alien puppets. I may have to partake before this run is over.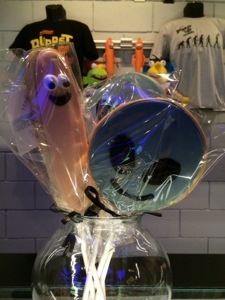 Now I'm back in my room writing this. Need to turn in early because tomorrow it's up for TV! I may be doing weather with the puppet. I think it's streamed online, so keep an eye on my twitter feed for info.