Puppet Up Spring 2014 Tour – March 13, 2014 – Springfield, OH
I wish I could tell you of some exciting adventures in Springfield, Ohio that took place before our show but there weren't. Not because there isn't much to do but because I slept in until noon and our call was two. So I basically just hung out in my room before going to the venue.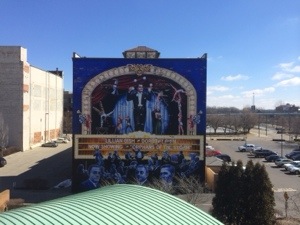 Once we were over to the venue, our crew was busy with the local crew getting things set up for the show. The local crew at the Kuss Auditorium were on the ball, they also had really positive attitudes. Love people who work hard yet can have fun. Having a few days off, the cast ran through some choreography just to refresh themselves on the moves for the opening and closing. Then we dove into tech rehearsal.
Tech went great, our fearless tech leader Greg was on top of things as always and we finished in time to have our venue provided dinner. Dinner was fantastic, all vegetarian. Fried eggplant, spaghetti squash, mushrooms and zucchini and a fantastic pear dessert that was a throwback to desserts of my youth.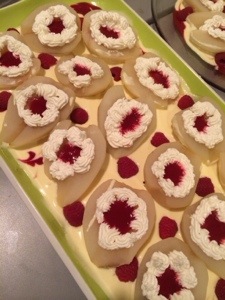 Soon the house was open and it was time to go. A really fun show tonight with some wild suggestions from the audience. Sean told the story of The Shameful Penguin using the Henson Digital Puppetry System. Peggy rocked out the Bond opening number for the film, The Revenge of the Sasquatch. Vanessa pulled a, spot on, Woody Woodpecker impression out of nowhere. Tim's old man during an Understudies scene was hilarious. And Victor want a great Alien Barbershop on the wacky suggestion: Volcano Taco. The audience loved he show and gave us a standing ovation at the close of in. We were very honored.
The adulation continued to the hotel where we ran into some audience folks who who had seen the show and bought some of us drinks (or a water in my case). It was a fun day and we are now ready to make our way to Kalamazoo, MI for our show there!
Truly lucky I get to do this and get paid for it.