Puppet Up Down Under 2014 – April 1, 2014 – Sydney Opera House

As I mentioned yesterday, the wireless internet in this hotel leaves a lot to be desired. I'm fact, the best internet we have found is standing in front of the hotel on the street and picking up the wifi from the cafe across the street. So, this morning, after standing on the street and checking my mail, I hit the gym.
Logged thirty minutes on the treadmill and did some other exercises as well, then it was back up to the room because I was doing a radio interview about our shows here in Sydney. The interview went well and they said they would pass along a copy. If they do, I'll post a link to it here.
After showering, I headed out to find something to eat. A lot of fun little shops and restaurants in the area where we are,Munich I'm told is Surrey Hill. I decided upon a turkey sandwich at a little place called tops. It was pretty good. I avoided the gelato shop where Colleen and her sister were getting a scoop. Though their pecan gelato has me intrigued. Maybe at some other point.
Got back to the hotel and Brian was in the process of getting our room changed, mainly because of the internet. Brian is doing several jobs while he is here and needs access to the internet at a moments notice. One of the benefits of being his roommate, I'd imagine.
I can't tell you how cool it was to drive up to Sydney Opera House knowing we'd be performing there tonight. It's pretty impressive close up and the surrounding harbor is just amazing. We only got seconds to look outside as we were whisked into the theatre to begin tech rehearsal. This place is pretty spectacular on the inside as well. They have a green room that is not just a green room, it's a whole cafeteria. Pretty fantastic. No pictures allowed in there or I would have snapped one.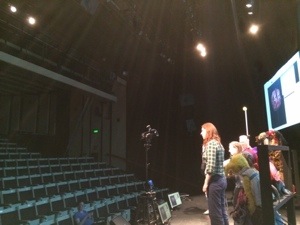 Our tech rehearsal went right up to showtime, as it often does when we move into a new venue, and at 7:30 PM the first ever Puppet Up! Uncensored show began at the Sydney Opera House. And what a show it was! From top to bottom it was a lot of fun and that had to do in part with the absolutely fantastic audience! From the top of the show to the end they were just there to have fun and, in turn, we had a blast!
From a zoo on the moon, to Lady Gaga at the great fire of London, to annoying people who snort every second word to Snow White and the Seven Perverts, it was just a blast of a show. And, of course, the Alien Barbershop:
Oh Global Warming
People dismiss it on a whim
Oh I hope
That those mother fuckers can swim.
A show for the record books.
After the show we hung out at the Opera Bar which is outside on the water and it was the perfect night for it. The sky was super clear, saw the Southern Cross for the first time, pretty amazing. Then we walked across Sydney back to our hotel. Just a perfect night all around.
So fortunate that I get to do it all over again tomorrow.
"When you see the southern cross for the first time,
You understand now why you came this way.
'Cause the truth you might be running from is so small,
But it's as big as the promise, the promise of the coming day." – Crosby, Stills & Nash