Puppet Up Down Under 2014 – April 2, 2014 – Sydney Opera House Show 2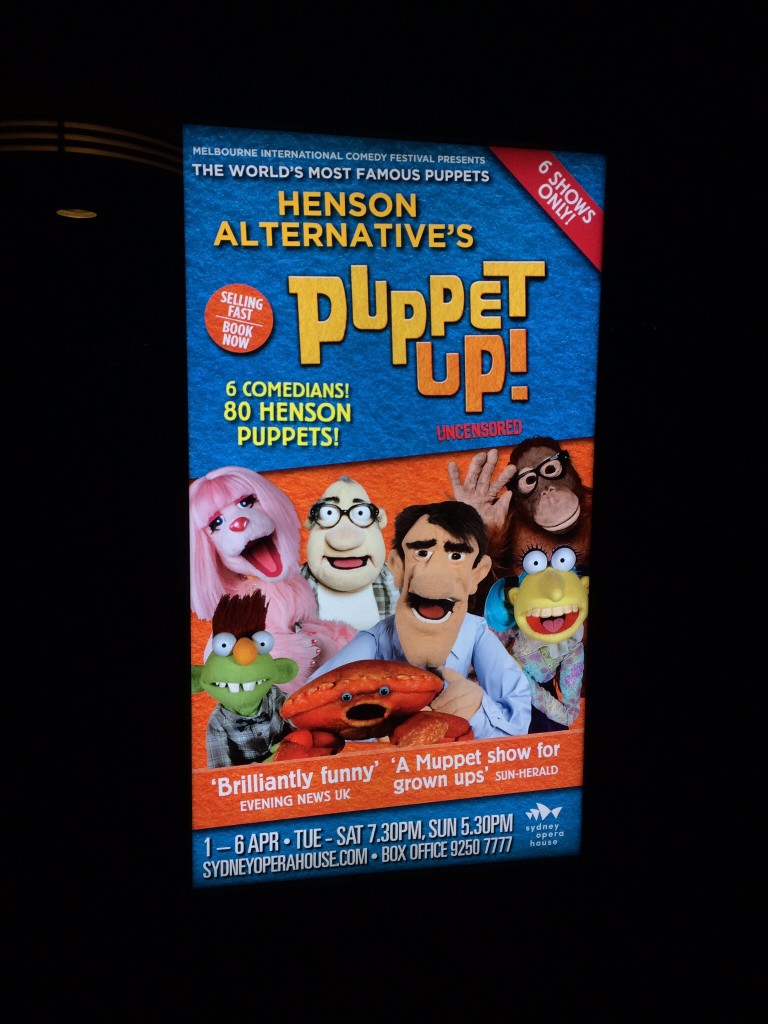 Woke up to another beautiful Sydney morning. The weather reminds me a lot of the weather in Florida. Very tropical. Very nice.
First thing, I made my way down towards to the gym to run on the treadmill a bit and lift some weights. I'm totally buff now.
After a shower, I hung out a bit with Brian in out apartment, with Dan visiting every now and then. Around noon, the three of us took a walk to get some lunch. I was in the mood for a sandwich, but after scoping out the place I thought looked like a deli, we decided on Thai food.
Keeping with my tradition of trying one new type of food on each of these tours, I gave Thai food a try. I believe I may have had it once before, but it left no lasting impression on me, so I tried it again. I enjoyed it this time around. I wouldn't say it is now my absolute favorite kind of food, but it wasn't bad. Also, now, if Thai food is the destination for a group of people, I'll be fine knowing there'll be stuff for me to eat.
After lunch I did some laundry and caught up on some email. Just generally chilled out before it was time to head to the Opera House.
Brian and I walked to the Opera House and it was cool to get our first, good look at it in the daytime. Yesterday, we arrived and just went straight into the theatre for tech. Today, Brian and I got down there early enough to walk around the entire Opera House. It's pretty impressive. Built in 1954, it has 6 performance spaces and it's really just completely impressive on the inside. I helped Uncle Interloper film some vines and take a few pictures. Then it was off inside to run our pre-show tech.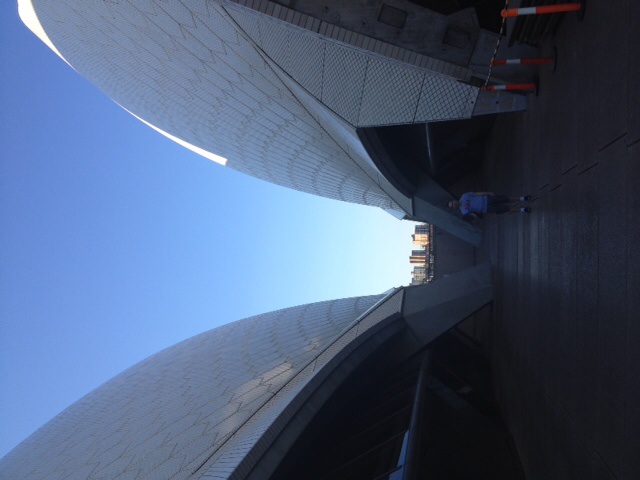 Tech went smoothly and soon it was time to suit up in black and commence to Puppeting Up. On this tour we've been doing 70 minute shows with no intermission and it's a fun way to do the shows. Things seem to transition pretty easily from one thing to the next.
Tonight's show was a blast, as they all have been. We visited an all girls school, the Roman Empire, told the story of Hansel & Regretel! The suggestion for the Alien Barbershop was unique. It was simply….They're real. Just that. They're real. So here was my rhyme…
My girlfriend's breasts,
Are size triple D.
I know they're fake,
Bit their real to me.
Think it came out pretty good. They crowd was great and it was another fun show. So lucky I get to do this.
After the show, we went to the Opera Bar which is outside on the harbor. It's just really amazing that we get to do a show in this landmark of a building and then sit outside and admire it while we have dinner. So lucky.
After a bit we walked back to the hotel to tuck in for the night. Excited for tomorrow as we are going to Featherdale. It's a wildlife sanctuary. With Kangaroos and Koalas. Uncle Interloper is very excited to meet them!