Puppet Up Down Under 2014 – April 8, 2014 – Back to the Princess
Woke up in my, now permeant, room that has an amazing view of Melbourne. Pretty great…24th floor, corner room, windows for most of the walls. Just amazing.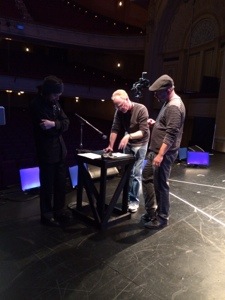 After checking some email and surfing the latest news, I headed down to the gym to run on the treadmill. Good to get back to it after a day off. Then, after showering and shaving, I went to meet up with Dan to get some grub.
I went to Dan's room to collect him for our fooding adventure and, while he prepared, I was looking out the windows of his corner room. His room faces an office building which you can clearly see into. As I stepped up to the window, I noticed a woman in the office sitting at the desk look over at me. I waved. She waved back. Dan asked what I was doing and I said, "Waving to the lady." Dan rushes over to the window and the woman waves at him too. I don't know why, but I thought it was so funny.
Dan is working on a cool secret project for the show that I'm super lucky to be involved it. When it's added to the show, I'll be sure to let you know. I think it's going to be great and I'm super glad to be working with Dan on it.
Dan and I went out for Japanese food. I was sort of luke warm on the idea, as my tastes are not too adventurous. Outside of edemame and tempura, there's not a lot for me to eat at a Japanese place. I ordered a chicken, egg and rice dish. It wasn't much to look at but it was decent. I got edemame too.
Then I went back up to the room, hung out, did some FaceTiming with home and just relaxed before it was time to head to the theatre.
Today was an earlier tech call than we have had just because we are moving back into the theatre. In Sydney we had added THE END and the Digital Puppetry pieces to the show, so we had to tech those in the new theatre. We're also working on a new bit that will make its debut in a few days. Again, more on that when it goes in.
We did tech work until about 5:00 PM, then it was a quick dinner break, then back for the show!
The show tonight was a ton of fun. Lots of great suggestions from the crowd. We saw some Jelly Wrestling, a news report about a Grandmother finishing a crossword puzzle, a lesson about brain surgery, some juggling while twerking and, of course, the Alien Barbershop about a Wet T-shirt Contest
At the wet T-shirt contest
I tried to keep calm
But the woman who won
It was my mom.
My favorite line of the night was in the news segment. Colleen said, as an expert, our society is turning into a socialist/fascist state. Ted, news reporter, asked the field reporter if this was true. Brian said, "Yes. It is true. There's no bread to be found anywhere." FOr some reason that just killed me.
After the show we took photos with some of the audience in the lobby, always a fun time. Then, after dropping our stuff off at the hotel, Dan and I went out to get food at a place called Panned Pizza. Let me tell you this, Panned Pizza has some amazing hamburgers. They really do. The pizza always looks like it has been sitting around all day, but the hamburgers are cooked fresh and totally worth it.
Tomorrow, it's another show. I have the best job ever!