Tag:
children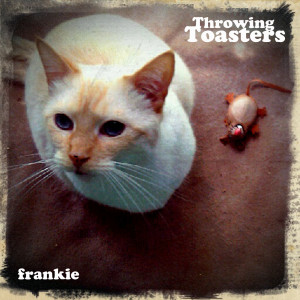 So, I have a new song available for sale today.  You can download it at the following locations:
iTunes | Amazon | CDBaby.com | Bandcamp
It's the first, strictly digital single I've released and I'm really proud of how it turned out.  It's called Frankie and it is the story of a sarcastic, talking cat named Frankie.  It is based on a true story.  And even though I say that before each time I play it live, people don't believe me.  But it's true, it's based on a true story.
My good friend, and fellow puppeteer, Alison Mork has a pet cat named Frankie.  Yes, that's Frankie picture as the album art for the single (photo courtesy of Alison Mork at the Frankie Archives).  Alison and I talk on the phone regularly and she'll often update me on something cute that Frankie has done since the last time we spoke.
Back in 2012, she excitedly called me and told me that Frankie had actually spoken to her.  Apparently, one morning she had looked at Frankie and said, "You are just a cute little gentleman."  Frankie, meowed in return but his meow, more of a squeak actually, sounded exactly like he was saying, "I am."
So I laughed and said, "Great, not only does he speak, he's full of himself."
A few days later, Alison told me that he had done it again.  She had said something complimentary to Frankie, and Frankie had replied with a meow that sounded like he was saying, "I know."
And the idea for the song was born.  I wrote it rather quickly, took me just about a day, sitting at my computer figuring out the lyrics.  It was the first song I've written on mandolin, a departure from all my other songs which were written on guitar.
I've super happy with how the final song turned out.  Steve Goodie did an amazing job on the instrumentation on the track.  It's everything a bluegrass fan (me) could hope for.  I do wish my vocals were a little better but I'm never happy with how I sound, so that'll never happen.
Another interesting tidbit about Frankie.  A lot of the time authors base characters in their books on real people.  Some even write real people into their books.  I've sort of done that with this song.  Of course, Frankie is based on a real cat, but whenever I sing the song I always picture the reporter as being my good friend, author, Mur Lafferty and as far as I'm concerned, that's who the reporter is!  So Mur has a cameo in my song.
Anyway, that's a little of the backstory on my new song Frankie.  I hope you get a chance to check it out.
I've also sent the track to Dr. Demento, so if you have a moment, CLICK HERE and request Frankie by Throwing Toasters on The Dr. Demento Show.  Please, just one request per week.
Tags :
cat, cats, children, children's sons, comedy music, comedy rock, cute, funny, music, songwriting, talking cat, truth
The promo for the 2014 edition of Grant's Advent Calendar went live this morning.  Like a lot of Advent Calendar video ideas, it took me forever to come up with the idea for it, but then once I did, it came fully realized and was pretty easy to shoot.
If you haven't seen the trailer yet, It's at the bottom of this post and it's just a hair over 30 seconds long.  I tell you, editing the current project I'm doing for Stan Lee's World of Heroes, has really drilled into me the importance of tight, quick editing.  A lesson I applied to this promo which would have been much longer if I kept it in its original form.  (Now if I could only apply the same thought on editing to my writing.)
I am excited to start the Advent Podcast, of course, but I'm also a little nervous this year, for a few reasons.  One is that I have, practically, no ideas.  Last year, I thought about it all year and came up with a huge list of ideas.  This year, I have about three ideas.  Not that good when you need, at least, 24.
Another reason I'm a little nervous this will be the first year without direct promotion on Facebook.  I completely deleted myself from Facebook earlier this year and that included the fan page for the Advent Calendar.  I feel like I may have shot myself in the foot, promotion wise, because it seems that if you want to promote something, you have to do it on Facebook.  But I just can't be on Facebook anymore.  So, I'm going to put all my focus in promoting the show in other outlets and also hope that word of mouth kicks into high gear this year.  So, if you're reading this, and you're a fan of Grant's Advent Calendar, please tell a friend.  Or five.
I started the podcast in 2005 and one frustration I have is that the podcast has never been featured in the iTunes Podcast Directory.  I don't know why, but it's always been a dream/wish to make that accomplishment happen.  I know there's a million other podcasts out there, but you'd think the longest running Holiday Video Podcast on the web would get some sort of mention.  I do understand that getting that mention wouldn't mean THAT much in the grand scheme of things, but it's something I'd love to see happen.
Anyway, here we stand on the edge of another Advent Calendar season.  Despite my nervousness, I'm super excited to get going.  Check out the promo below and, if you'd like to help produce the show, check out the Saturday Morning Media Patreon campaign I have running and consider making a pledge.  And, as always, thank you for the support.