Tag:
travel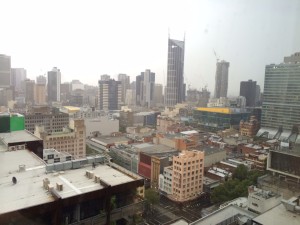 Woke up around 8:00 AM, and begin the process of making sure I have everything out of the hotel room in Melbourne. Yes, today, I would have to leave what has become one of my most favorite cities in the world. It was time PuppetUp train to move on towards Brisbane, Australia.
It was raining this morning in Melbourne as though the city was sad to see us leave. Soon, though, we were at the airport, boarding the plane, and heading off to Brisbane. The flight to Brisbane took just under two hours.
While I was in the airport, I found a store selling these little notebooks that I had seen around Australia. They are made in France but I have never seen them in the United States. I picked one up, a small one, and I tasked myself with writing a short story that would completely fill all the pages of the notebook by the time we landed. I did, and it was a fun little creative exercise. I was almost very tempted to leave the notebook on the seats for the next passenger to read. But, I kept. I did however leave some googly eyes when we landed. When we arrived in Brisbane, we immediately felt the tropical weather that we hear is the norm in this town.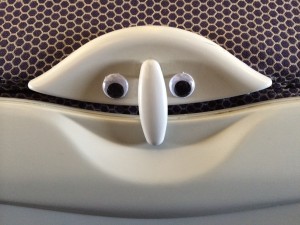 After a misguided taxi ride from the airport, we arrived at our hotel in Brisbane. This one was a bit different than the others we have stayed in because instead of sharing an apartment-like, two bedroom space, we have individual rooms. They are pretty great.
Shortly after arriving, Brian and I walked around a little bit to find someplace to eat. Neither of us had eaten anything during the day. We wound up at a kebab restaurant and had a nice kebab wrap each, then we walked around town a little bit more until we found a grocery store. After some shopping, we headed back to the hotel. Some of the other folks were just leaving to go get dinner on their own, so Brian and I decided to join them as they walked along the river to find a place to eat. It was a nice walk, and Brisbane looks pretty beautiful. It's no Melbourne now. Soon I headed back to the apartment, on my own, and I did some laundry, answered some emails, and watched a little bit of the WWE Network.
Other than that, it was a relaxing day. Sad that there is less than a week left of the tour. But I am excited that there are three more performances left.
It will be great to get back home as I have a couple projects I need to dive into upon my return. Some big news coming for Uncle Interloper and a new partnership that is on the horizon for him. Good thing I filmed all those Uncle Interloper interested shorts while we were here in Australia.
As always, very grateful that I get to do this job.