Tag:
weight
Welcome to Friday and the start of the weekend, where you will want to eat…EVERYTHING.
Did not wake up with a headache this morning so that is awesome.  Felt pretty good.  I think I've found my balance in eating just the right amount.
Hopped on the scale this morning and…..down another pound and a half!  Whoo!  That's 2.5 lbs since the start.  This is what happens when I start eating right, I'll drop a few pounds right at the start then plateau a bit then drop steadily.
I will say Ii'm still getting some major cravings though.  I started today with a salad from a place called Chop Stop.  I'll talk about the salad more below, but let me tell you what the Grant of a week ago would have done.
Chop Stop is in a little strip mall type area with some other food places a CVS and a Sprouts Supermarket.  For the longest time I'd go get a Chop Stop salad then go to Sprouts and get some bananas to have at my office.  On the way through Sprouts one day I notced big barrels of all different types of candy.  I love me some covered pretzels.  Chocolate, Vanilla, Yogurt, whatever…I like them.  I saw the Chocolate Covered pretzels and tabulated up the Weight Watchers points for them. 14 chocolate covered pretzels is 5 points.  Since the first day I saw those pretzels I'd buy some bananas, a bottle of water and a HUGE bag of chocolate covered pretzels.  Not just 14.  28, 38, more.  And then the moment I'd get in the car I'd just start eating and, most times, have it finished by the time I got to my office.  A 10 minute drive away.  Yeah.  Not proud.
So today I went to Chop Stop, then Sprouts to get bananas and I didn't even walk down the pretzel aisle.  I did want to get something besides bananas though.  Something different so it would sorta be a treat like pretzels.  I decided on a couple pears.  0 WW points and I love me some pears. So I'd call that a win.
After my run I was craving that burrito but I resisted, going for a Subway sandwich instead.  I'm on track.
So let's get to today's food.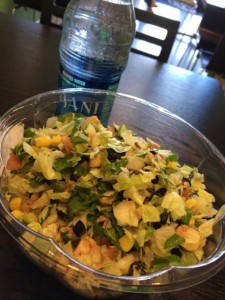 Chop Stop BBQ Chicken Chopped Salad – 12 WW Points*
I love this salad and I love Chop Shop.  I go back and forth between this one and their Greek Chop.  I've been more into the BBQ Chicken one recently though.  Big bowl of chopped lettuce, corn, black beans and black olives.  The Olives don't come standard, tortilla strips do, so I swap them out.  The * above is the total figured out with the tortilla strips.  I think it's a little less, but I still use the full 12 points in my tracking.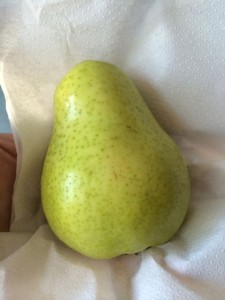 Pear – 0 WW Points
I was so looking forward to this pair and it was just okay.  I gotta learn how to pick out a good pear.  If only there was some recourse at my fingertips that would have such information…..  Kidding.  I know I could just look it up on YouTube and have a 11 year boy in Kentucky show me how to do it.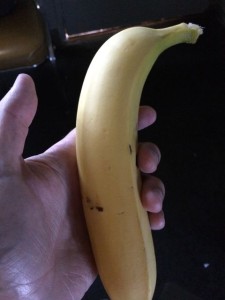 Banana – 0 WW Points
Good old banana.  Not much to say except I ate it.  And it was better than the pear.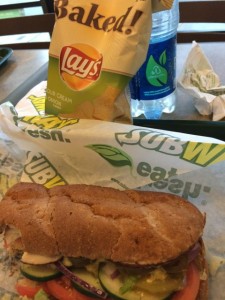 Subway 6″ Turkey on Wheat, Baked Lays Sour Cream & Onion Chips & Bottled Water.  WW Points = 11 Points
Same old, same old.  But it's a good one.
Activity – 30 minute run
Took my vitamin this morning, again and I'm feeling good.  Liking that things are headed in the right direction.  Remember, I'm not looking to lose exactly 10 pounds by October 20th, close is good.  Want to loose a little more than 2.5. though so work continues.
Thank you for all the support messages here and on Facebook.  I really appreciate it.
Goodnight!