Creative Mondays #011 – If something clicks, keep doing it.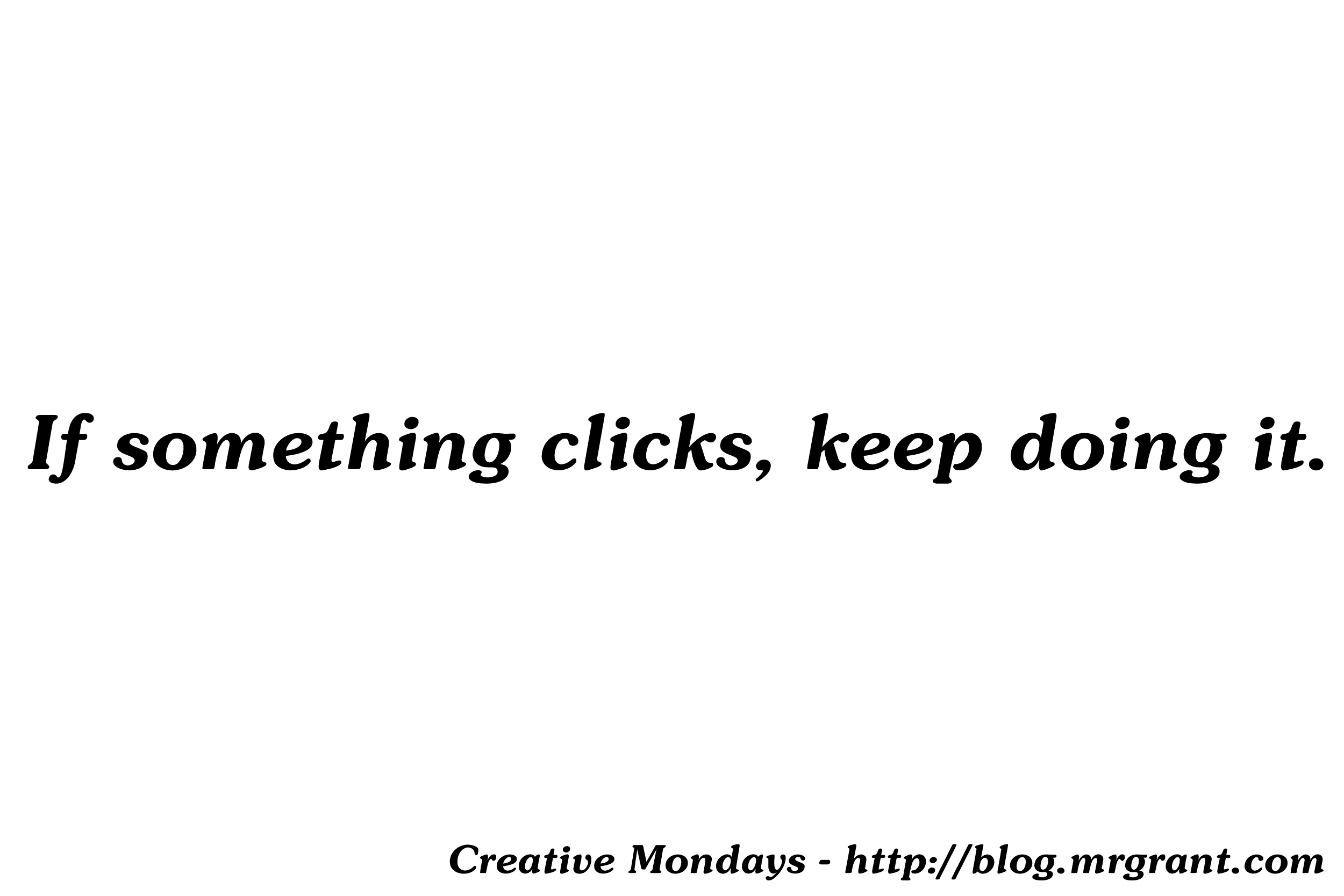 When I began training to be in The Jim Henson Company's Puppet Up, part of the training was improv classes.  After taking those classes for a while, I started taking classes outside of Henson, through The Imrpovatorium.  Most of my classes were with Patrick Bristow but I had a few other teachers as well.  One class I took was a long form improv class with Ted Michaels.  Ted is a brilliant improviser and he is also a member of Puppet Up.  Ted is a great teacher and knows a lot of great structures to help drive home the core concepts of improv.
I don't remember the exact name, but one of the structures we did really hit me as being funny and, as I was thinking back about it today, the principles of it can be applied to creativity.  The improv scenes started out just like most other improv scenes.  Two people got a suggestion and then began the scene.  The rule of this game was to go through the scene as normal until the first big, whole audience, laugh.  Then, whatever it was that got that laugh, the two improvisers just keep doing that.  The point being that if you keep following that first big laugh, most of the time the scene will continue to be really, really funny.  I'll give you an example.
My friend Chris and another improviser were doing a scene that involved them getting into a car.  Once inside the car, Chris made a move to roll down the car's window.  Of course, he was 'space-working' or miming it because there wasn't a car on stage.  So Chris made the move to roll down the window but his move was just really weird and not how you would go to roll down a real car window.  It was funny because the audience immediately thought, "What kind of crazy wind controls does this car have?"  That move got a big laugh.
So Ted said, "Okay, the scene is now about this 'awkward space-work' car."
So Chris and his partner just went on with the dialogue as normal, but everything in the car, turning on the radio, opening the sunroof, pushing in the cigarette lighter, became these really big awkward physical movements.  The scene was so funny.  As the class continued, time and time again it was proven that if you just kept following that one thing that tickled the audience, the scene will succeed.  Of course there were exceptions to the rule, but for for the most part, it worked.
Now, another improv teacher I've had would agree to an extent.  I believe he would say you should pursue what the audience feels is funny, yes, but be aware when they are ready to move on to something new.  Then look for the next thing and follow that.
I think this theory or pursuing what 'clicks' with the audience can be applied to creative work as well.
If you find that you create a piece of art that really clicks with your audience, follow it.  Keep creating in that manner.  Now I'm not saying paint the same painting over and over again, but if you find a style that hits with your audience, keep creating in that style.  If you're a writer and a story or book hits, write another with the same characters or in the same universe.  If a sculpture you create is a hit, create in the same style for the next one.  Follow what clicks with your audience.  I'm also not saying never create in another way again, that would be boring.  But if you find something that works, go with it until it doesn't work anymore and then try something else.
I can point to an example of this in The Radio Adventures of Dr. Floyd.  In 6 seasons of the show we followed the same 'time travel' formula.  Dr. Steve wanted to steal historical artifacts and Dr. Floyd tried to stop them.  After six seasons I wanted to try something else.  Shake up that formula a little.  So I created a season long storyline where Dr. Floyd and Dr. Steve got trapped inside classic literature.  Now, I think these were some of our most fun shows and showed that the Dr. Floyd characters could still exist in another format.  Some in the audience didn't think so.  While many folks loved Season 7, we got plenty of feedback from folks who missed the time travel formula we had done over the previous seasons.  So, you'd better believe we brought it back for what was the eight and final season.
Dr. Floyd really clicked with people and I followed it until it was impossible to do so anymore due to issues that arose between myself and the other co-creator of the characters.  Since then, I've created other similar style projects and some of that audience stayed with me.  True, many want Dr. Floyd to return, but that's just not possible now.  But those who like the way I produced audio drama have followed and, I hope, they aren't disappointed as I'm still creating in the same style.  I've set up Saturday Morning Theatre as sort of a testing ground where I can produce different types of shows and if one of those shows really clicks, I can run with it and produce more.  The Tales Deputy Guppy seems to have a pretty good fan base, so there will definitely be more episodes of that. The Adventures of The Thunder Crester got sort of a lukewarm response, so I may make a few more episodes to wrap up the storyline, but I probably won't be producing more seasons of it.
If something clicks with your audience, keep doing it.
—
Have you ever had something click with your audience?  If so, what did you do?  Did you follow it or try something different?  Let me know in the comments below.
Tags :
art, create, creating, creativity, Dr. Floyd, drawing, improv, improvisation, painting, podcast, podcasting, puppet up, puppets, sculpting, writing