Tag:
podcasting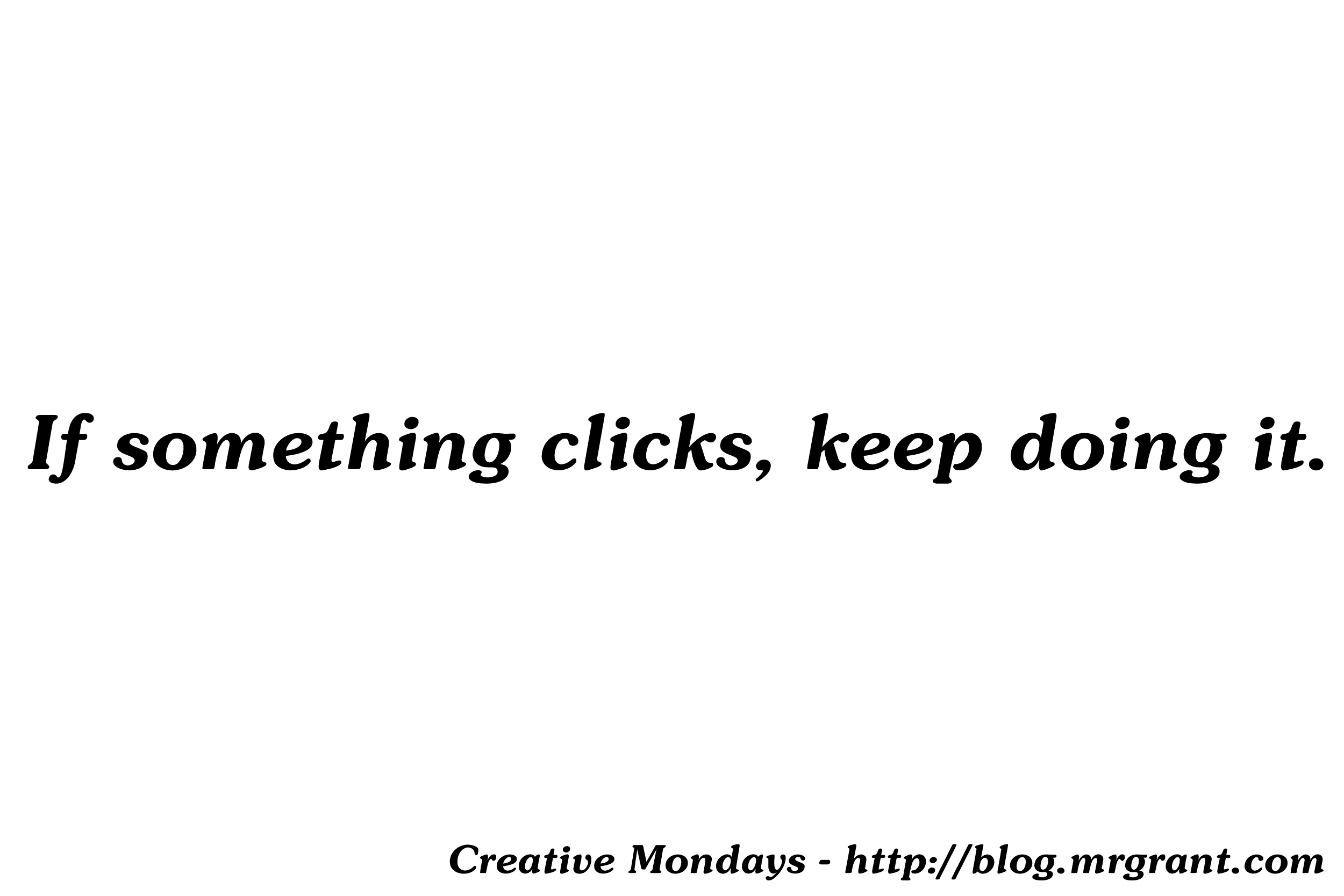 When I began training to be in The Jim Henson Company's Puppet Up, part of the training was improv classes.  After taking those classes for a while, I started taking classes outside of Henson, through The Imrpovatorium.  Most of my classes were with Patrick Bristow but I had a few other teachers as well.  One class I took was a long form improv class with Ted Michaels.  Ted is a brilliant improviser and he is also a member of Puppet Up.  Ted is a great teacher and knows a lot of great structures to help drive home the core concepts of improv.
I don't remember the exact name, but one of the structures we did really hit me as being funny and, as I was thinking back about it today, the principles of it can be applied to creativity.  The improv scenes started out just like most other improv scenes.  Two people got a suggestion and then began the scene.  The rule of this game was to go through the scene as normal until the first big, whole audience, laugh.  Then, whatever it was that got that laugh, the two improvisers just keep doing that.  The point being that if you keep following that first big laugh, most of the time the scene will continue to be really, really funny.  I'll give you an example.
My friend Chris and another improviser were doing a scene that involved them getting into a car.  Once inside the car, Chris made a move to roll down the car's window.  Of course, he was 'space-working' or miming it because there wasn't a car on stage.  So Chris made the move to roll down the window but his move was just really weird and not how you would go to roll down a real car window.  It was funny because the audience immediately thought, "What kind of crazy wind controls does this car have?"  That move got a big laugh.
So Ted said, "Okay, the scene is now about this 'awkward space-work' car."
So Chris and his partner just went on with the dialogue as normal, but everything in the car, turning on the radio, opening the sunroof, pushing in the cigarette lighter, became these really big awkward physical movements.  The scene was so funny.  As the class continued, time and time again it was proven that if you just kept following that one thing that tickled the audience, the scene will succeed.  Of course there were exceptions to the rule, but for for the most part, it worked.
Now, another improv teacher I've had would agree to an extent.  I believe he would say you should pursue what the audience feels is funny, yes, but be aware when they are ready to move on to something new.  Then look for the next thing and follow that.
I think this theory or pursuing what 'clicks' with the audience can be applied to creative work as well.
If you find that you create a piece of art that really clicks with your audience, follow it.  Keep creating in that manner.  Now I'm not saying paint the same painting over and over again, but if you find a style that hits with your audience, keep creating in that style.  If you're a writer and a story or book hits, write another with the same characters or in the same universe.  If a sculpture you create is a hit, create in the same style for the next one.  Follow what clicks with your audience.  I'm also not saying never create in another way again, that would be boring.  But if you find something that works, go with it until it doesn't work anymore and then try something else.
I can point to an example of this in The Radio Adventures of Dr. Floyd.  In 6 seasons of the show we followed the same 'time travel' formula.  Dr. Steve wanted to steal historical artifacts and Dr. Floyd tried to stop them.  After six seasons I wanted to try something else.  Shake up that formula a little.  So I created a season long storyline where Dr. Floyd and Dr. Steve got trapped inside classic literature.  Now, I think these were some of our most fun shows and showed that the Dr. Floyd characters could still exist in another format.  Some in the audience didn't think so.  While many folks loved Season 7, we got plenty of feedback from folks who missed the time travel formula we had done over the previous seasons.  So, you'd better believe we brought it back for what was the eight and final season.
Dr. Floyd really clicked with people and I followed it until it was impossible to do so anymore due to issues that arose between myself and the other co-creator of the characters.  Since then, I've created other similar style projects and some of that audience stayed with me.  True, many want Dr. Floyd to return, but that's just not possible now.  But those who like the way I produced audio drama have followed and, I hope, they aren't disappointed as I'm still creating in the same style.  I've set up Saturday Morning Theatre as sort of a testing ground where I can produce different types of shows and if one of those shows really clicks, I can run with it and produce more.  The Tales Deputy Guppy seems to have a pretty good fan base, so there will definitely be more episodes of that. The Adventures of The Thunder Crester got sort of a lukewarm response, so I may make a few more episodes to wrap up the storyline, but I probably won't be producing more seasons of it.
If something clicks with your audience, keep doing it.
—
Have you ever had something click with your audience?  If so, what did you do?  Did you follow it or try something different?  Let me know in the comments below.
Tags :
art, create, creating, creativity, Dr. Floyd, drawing, improv, improvisation, painting, podcast, podcasting, puppet up, puppets, sculpting, writing
This year I took part in Script Frenzy. It's an international writing event where the goal is to write 100 script pages in the month of April. I used this challenge to begin work on my new project. While I'm not 100% set up to reveal what that is exactly, I am prepared to give you a quick sneak peak at what a small part of that project will be.
As you probably know, we wrapped up Dr. Floyd last year. As we did, I started looking for a new project to work on and so began looking through old notebooks for ideas. I came across a series of comic books I'd drawn in high school. Yes, I was quite a comic book nerd then, as now, and fancied myself both artist and author. My art was never really much to write home about, but the stories seemed to interest people, so I kept going.
My main comic was The B-Men, an X-Men take off featuring mutants based on fellow members of the Burlingame High School Marching Band. I also had Death Shadow: High School Vigilante. Based on The Punisher, he went around righting the wrongs high school kids committed. Dark stuff actually. Eek!
During this time of comic creativity, I also created Deputy Guppie. The concept was a western…underwater. A true western in all aspects except all the characters were fish. And now, for the first time on the internet, I give you the first ever appearance of…Deputy Guppie…
While this search for new ideas was going on, I was listening to the classic old time radio show The Six Shooter with Jimmy Stewart. If you haven't heard this incredible series, do yourself a favor and search it out online. It's amazing. The moment I heard it, I knew I wanted to do something in the western genre. When I rediscovered the Deputy Guppie comics, my fate was sealed. This would be my new project.
The original comic was only 7 pages long so I began fleshing out the characters and the overall story. I also decided it should be Deputy Guppy, with a 'y', not 'ie'. My friend, amazingly talented puppet builder and performer, Russ Walkocame up with this great logo that I instantly loved.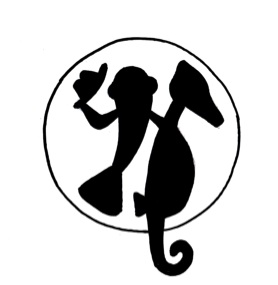 Then came time to do initial character designs. I looked around at different friend's art styles and decided on animator, comedy musician Kyle Carrozza a.k.a. TV's Kyle to do the designs. I sent him my ideas and a few of the scans of my High School drawings and he went to work. Friends, he nailed it. His final results are just stunning. And so now for you, dear reader, I'm so excited to present the cast of The Tales of Deputy Guppy!

Awesome huh? Guppy and his friends already have a four episode arc written with ideas for more. I'm sure you can tell that I'm extremely excited to bring Guppy and his fin-fisted adventures to you, but as I said, the adventures of The West's Bravest Fish are just one part of a brand new project that I'm developing! Stay tuned for more news as this new project nears launch late this summer (or early Fall).
The Tales of Deputy Guppy are just the first step in my goal to develop something completely new in the world of family entertainment on the web! I hope you plan to join me on the adventure.